On august 2020, approximately 6 months into the global pandemic that saying the least, has altered not only our daily lives and normalcy, but mainly our expectations, certainties and projections, the Visionaria team saw the opportunity to use remote programming to approach local youth in Cusco and learn about their experience undergoing first-in-a-lifetime global pandemic. Youth experiences could carelessly be grouped with general women's and at-risk populations, disregarding their unique age-related needs, characteristics, difficulties and contexts being deeply compromised.
As an organization, our interest is to learn about youth's life perspectives, their ideas for change and the way they feel their voice is being heard. We knew COVID-19 would impact youth with new challenges and new visions, as well as uncertainty and questioning regarding their present and future. While shifting towards adaptation mode, getting a hold of their ideas was key to inform and guide our remote programming efforts and strategies to continue to amplify their voice.
We have the conviction that given the platform and the opportunity, youth can become authentic allies to work towards the sustainable development of their societies. This is why we are so certain of the current need to listen, gather and highlight Cusco´s youth´s concerns, beliefs and expectations for their future and that of their communities.
This fresh data should inform the agenda of the youth towards sustainable development, enabling them to assume their personal agency in their role of agents of change and allies to build a more optimistic future in a more hopeful scenario.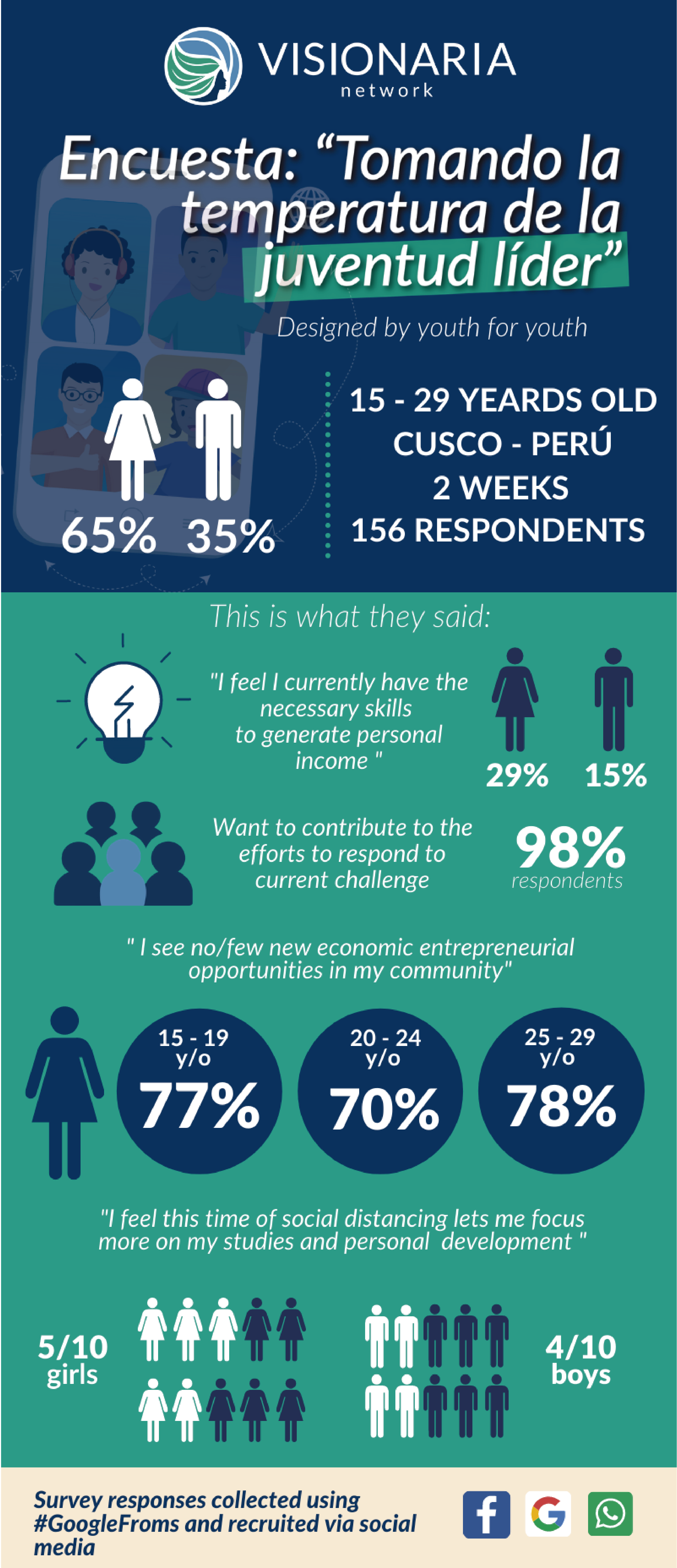 Our goal was to get direct information about specific topics in a short period of time from young women and men in the city of Cusco, Perú. Inspired by UNICEF´s U-Report experience, we ideated our strategy: an online survey through convenience sampling.
We prioritized the value of "design by youth, for youth" and engaged Derly to co-design with us. Derly is a twenty one years old young woman, currently studying administration in the public university in Cusco and has participated as a scholar of our leadership program in 2015 and 2016. Her participation added greatly to the process, her point of view as a young woman herself was a filter with which we formulated the questions of the survey. In a similar way, her insights enriched and contextualized the analysis process. 
The survey "Tomando la temperatura de la juventud líder" – Measuring the temperature of youth´s leadership aimed to gather information about local youth and their perspectives regarding the impact of Covid-19 on economic, social and education aspects of their life. 
This rapid assessment was conducted through the lapse of 2 weeks, with participants recruited via social media (Visionaria´s and allied youth organizations). We had 2 criteria for participation: age (participants had to be 15-29 years old), and location (Cusco). We intended to get 100 respondents in 2 weeks and exceeded the expectations by 50% (total 156 respondents) – 65% female and 35% male.
Some of our key learning:
Young women who participated in the survey, in general and in spite of their age, feel there are none to few economic entrepreneurial opportunities in their community after COVID-19.

Regarding youth´s education and agency, a greater percentage of young women have taken the social distancing caused by COVID-19 to invest more time in their studies and personal development than young men.

Male´s perception of their personal skills to generate a personal income in the current situation is half as optimistic than young women's self-perception.

98% of respondents expressed their desire to contribute to the efforts to respond to current challenges following COVID-19
We have access to fresh data, obtained from direct sources, to begin to understand the way youth has experienced social isolation and changes caused by the pandemic; as well as their particular perspective regarding efforts and opportunities post COVID-19.
The data has informed our strategies and guided varied efforts to better and more widely engage youth´s participation. The space we enable for dialogue can now be intentionally oriented to address their concerns and showcase opportunities.
We have data to inform our efforts to push an informed agenda amongst our neworks for youth´s participation, including and highlighting important topics and approaches.
For Visionaria Peru specifically, this experience has resulted in a series of conversatories online through Facebook LIVE, in which discussion between youth and experts are held to further comprehend the data obtained

Licenciada en Ciencias de la Comunicación Social y Co-Fundadora de Visionaria Perú, con experiencia de 8 años en el ámbito del desarrollo sostenible habiendo desarrollado capacidades para el diseño de programas y proyectos focalizados en derechos humanos de las mujeres, infancias y adolescencias.