I´ve heard that at least once in our lives, we have the opportunity to change the way other people see the world. I want to share with you the story of three teams of young leaders from Cusco who decided to seize their opportunity and inspire people like me through their actions. Although there are several kilometers that separate us, it really doesn't matter when it comes to sharing dreams and motivating us to take action.
I must admit I myself have so many dreams. I dream of a world with more opportunities, I dream that the problems in my community receive solutions and I dream of supporting my family to continue growing together. But to be honest, I still don't have much clarity on how to make them all come true! I still remember with great admiration the idea that Alexander, Jenner, Josías and Jafet had to unite students from their school to participate in a sports day. And sure, you may wonder "what's so important about a sports day" Well, they managed to interest the community of their school to turn their back on alcoholism, a recurrent problem in their community Chacan,  which is located outside the city of Cusco, in the province of Anta.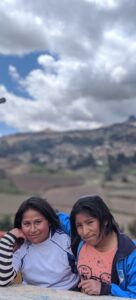 Sometimes, when my own thoughts discourage me from pursuing my dreams, I think about the efforts that Magaly, Ana, Miguel and Guido did to host a job-for-youth discussion on the Sunday fair! If you don't understand what a job-for-youth discussion is, don't worry. I didn´t understand it either until I met them and their desire to raise their voices to be heard by authorities of their community, because they were very concerned with the few job opportunities that we have as young people once we are over with school. I feel that the experience they lived not only gave the team good lessons, but also the community of Chinchaypujio.
I´m sure everything I've told has caught your attention and I also know that some people will think that this pandemic has reduced the opportunities for youth to take action (because that´s what I thought at the beginning). However, the story of Juan Carlos, Cristina, Jhon David and Leticia have proved me otherwise. The social distancing has affected many families´ economies in the Accha Baja community in Calca. And although it seemed complicated, these guys led an initiative with which they could help their families by paying for their own education. The team focused their energies and resources to reactivate the school´s greenhouse. "Sembrando Alfalfa" (Planting alfalfa in English) is the name they gave to their project that began in August of this year and now in November they are already selling their product.
With all these examples, it's so clear to see that dreams do come true!
These stories helped me understand that the first step to achieving a dream is wanting to make a change. If you are also looking for a change, I will continue to share the stories that inspire me and what I am learning to transform our reality. I know that soon the opportunity that all these awesome students had in the Leader with Vision Scholarship will reach my community and that of other younger people.equip
Ñawi is one of many young women who await opportunities to empower their leadership, amplify their voice and contribute to their community by being agents of change.
The Leader with Vision Scholarship is that opportunity for her to continue growing and an opportunity for you to participate in the construction of a leading youth and a more just society.