Nearly every single one of us is being challenged in new and unexpected ways. Visionaria Network shares some of their favorite practices to keep your mind positive (and sane).
---
In light of the global COVID-19 pandemic households around the world are reacting to new needs and forces outside of our control. 
Members of the Visionaria Network team in Cusco, Peru, are no exceptions. We are adjusting. We are worrying. We are learning about this novel coronavirus and the recommendations to slow its spread. We are more stressed, more confined, more exposed than before. We are uncertain about the future. We are forced to make difficult decisions about how to work, how to cover basic needs, and how to care for our family – physically and emotionally. 
Our routines are upended, but the value of our work has become even more tangible and potent for our partners. Visionaria (Spanish for 'female visionary') represents a spirit and belief that we each have the ability to plan the future with creativity and confidence.
The approach and methods are grounded in a 'growth mindset' and other advances in neuroscience and behavioral psychology, which have been shown to increase personal performance and achievement across various cultures and contexts. Our work is to help isolated teachers understand and integrate the same practices for their students.
The lessons and practices are designed to build resilience and experience for times of stress and trouble — to help you decide where you want to go, how you want to be, and to remove mental obstacles you might be placing in our own way. We aim to build evidence of students' potential and growth.
In this post, we share about how the Visionaria team is employing our material and techniques virtually to help teachers and students in the highlands of Peru navigate this incredibly challenging time and share some examples. Also, we highlight some Visionaria practices that our team has found to be particularly helpful that you can try at home!
School Year Delayed, Learning Continues
While teachers, students and administrators scramble to salvage the start of the school year (still delayed from the original March 16th date), we are experimenting with new ways to nudge teachers towards this spirit and practice skills from the Visionaria curriculum in their own lives – 
Since we received notice that the school year beginning would be delayed, we have made extra efforts to reinforce mental habits that are known to help us stay positive and resilient. We have helped reinforce trustworthy information sources and timely practices for growing community of educators and young leaders via our facebook pages and whatsapp groups.
Here are some examples:
Highlighted Practices
We want to highlight some simple practices and prompts from the Visionaria curriculum that have proven helpful for our team to focus on in the face of new uncertainty and stress. It doesn't matter where you start, or what you have initial steps and practices that we've found most helpful to members of our team and our partners during the initial wave of change and uncertainty caused by the COVID-19 pandemic.

Make Space for Yourself
Make some space for yourself! Actually, literally. When things get difficult, and you feel drained, you can download your thoughts and refer back to your writings in this space. 
Preparation:
Find some blank space where you can write your personal thoughts and ideas. 

If you find yourself spending a lot of time on your cell phone or computer, it's great to find a physical piece of paper, notebook, or notepad that you can write-in and locate easily.

Remember Your Best Qualities
Our minds naturally look for faults and threats in the world around us, and within ourselves. We can easily become harsh critics of ourselves — only recognizing and dwelling on our negative situation around us, or indications of our shortcomings. However, this negativity can make us closed off to the positive potential around, in some cases to the point of physically limiting your field of vision and ability to detect opportunities around you. 
It's not necessary to be irrationally positive when you are sleep-deprived and your world is turned upside down… but if you can find at least one moment each day to remember your positive qualities, you will be more relaxed and ready for the opportunities that come your way.
ADAPTED PRACTICE: My Best Qualities
10-15 Minutes
Write 10 qualities that you like or appreciate about yourself (Use descriptive adjectives like "Smart", "Funny", "Caring", "Fast", "Thorough", etc. — what matters is that YOU like this quality in YOURself)

From your ten (10) qualities, circle your top five (5).

From your top five (5) circled qualities, write your top 3 (in any order) below your original list or on a new page. 

Spend five minutes writing to the prompt, "When I'm at my best I am…"
[Image below shows an example of top-5 and top-3 best qualities, in Quechua and Spanish]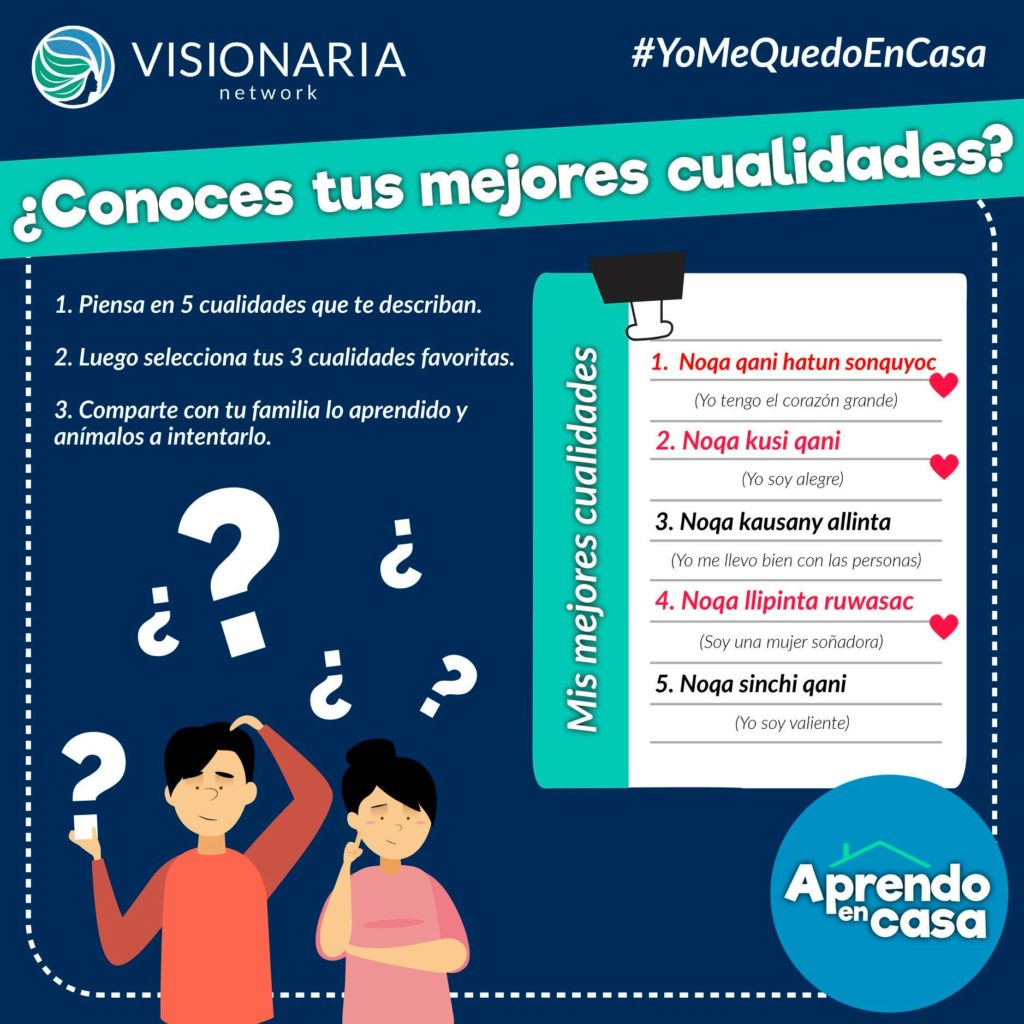 Epifania (a past Visionaria Leadership program participants (and an ongoing advisor to our team in Cusco) returned to the "My Best Qualities" activity right as the Peruvian government implemented strict home quarantine measures in March — She wanted to find a sense of personal strength when everything felt so chaotic. Before a Visionaria program in 2015 she had never been asked to reflect on her personal strengths and qualities. This time, she decided to write her qualities in Quechua (an indigenous Andean language) as well as Spanish and offer this example to her personal network and through Visionaria's social media channels.
---
ADAPTED PRACTICE: My TO-BE List *
5 Minutes
Look back to your list of "My Best Qualities" and ask yourself, "which qualities do I want to shine through when I am at my best?"

Create a small secondary list next to your daily to-do list and write 2-3

ways that you want "to-be"

(e.g. "confident", "focused", "present", or "caring");

Check your to-do list and see if there are things that you can focus on, or change to make sure that you can to BE the way you wish to be along the way!

Just like your "to-do list", your "to-be list" might change day-to-day, depending on the positive qualities that you wish to give more attention to in yourself. 
*Note: This practice is not currently in the Visionaria curriculum, but great for busy people who like to create and work from their to-do list. 😉
---
MORE HIGHLIGHTED PRACTICES
---